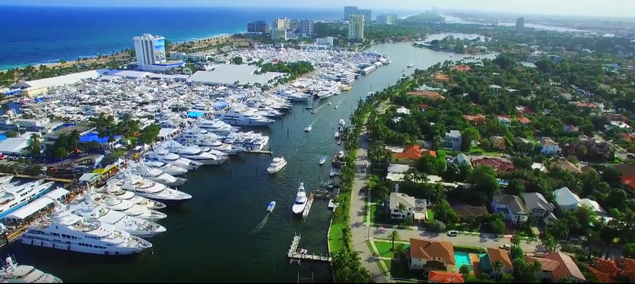 This fun-in-the-sun city in Florida, has something for everyone. It's gorgeous mix of stunning beaches, lazy canals and vibrant attractions has people from all over the world coming to play, relax, and in your case, create lasting memories at an event like no other. Welcome to 'The Venice of America', Fort Lauderdale, and the home of Unleash 2020.
Let's explore the best things to do in Fort Lauderdale for Unleash 2020.
W Fort Lauderdale's The Living Room & El Vez
Chill out at W Fort Lauderdale Hotel
With the hotel putting on vibrant music and live entertainment every night for guests at The Living Room, you need not venture far for a good night out. Upon the conclusion of day one of Unleash, we will be hosting our Networking Drinks at El Vez, an award-winning Mexican inspired restaurant, located right on hotel premises. We encourage all attendees to join us for margaritas and nibbles as we reflect on the first day and get to know the ezyVet team, partners and other attendees. This event is free to all registered delegates.
Speed across Las Olas Beach shoreline or enjoy a walk at Anne Kolb Nature Center

Be a tourist with us
We aren't all work and no play! Day two of Unleash includes an optional Activity Afternoon where you can experience a local attraction with us. We've arranged several exciting sea, land and air (parasailing counts!) activities, with varying 'thrill' levels for you to enjoy. We hope you take some time to relax from the busy Unleash schedule, with options such as adrenaline fueled jet-skiing, a fishing trip or a leisurely stroll in a nature reserve. Limited spaces available for each activity; don't forget to book your top choice when registering for Unleash.
Do as the locals do
For those wanting a popular local Happy Hour hangout or bite to eat, we've got a few suggestions at hand. There's no shortage of beachfront bars and restaurants all within walking distance from the hotel including McSorleys, Tsukuro and G&B Oyster Bar. You can grab a sun trolley or a free ride through the Circuit App to other hot spots in downtown Las Olas Boulevard for a taste of local cuisine. Another idea is to hop on board a water taxi to Hollywood Beach's Margaritaville Beach Resort.
Party with new friends
While there are sightseeing trips you can book with the Jungle Queen, why not join us for our Closing Party held at the end of day three? Indulge in dinner and drinks with the ezyVet team at the not to be missed final Unleash social event. Tickets are US$150 per person and travelling companions are more than welcome to join in the fun. Details to be announced soon.

Fort Lauderdale Air Show held 2-3 May 2020, Art Deco buildings in Miami

Extend your stay
We have secured special room rates for our attendees for an added three days either side of Unleash (4-7 May 2020). If you prefer to come early to settle in, you'll be right in time for the world-famous Fort Lauderdale Air Show held between 2-3 May 2020. Extend your stay until the weekend and spend a day scuba diving or on a sport fishing charter in the Atlantic ocean. Miami and Key West aren't too far away either if you wish to explore more of South Florida before you head home.

Make the most of your time at Unleash in a city that welcomes one and all.
If you have any ideas or suggestions, please let the team know at marketing@ezyvet.com.
---
Comments